The first few days of Nothing in Winnipeg were a blogging triumph. Then today…. *whooooooCRASH*.
I blame the day job.
But while I angle to get myself back on track for tomorrow, I want to make a personal note, from me to you.
This blog has been getting great traffic for a newborn. Lots of people are checking it out, and what's more amazing, lots of people are coming back, even without me flogging my own posts on Twitter or Facebook. 
That means a lot. I've written a lot of things that people have read, but I've usually hid behind a byline and a publication brand. I've never been in a position where I've had to promote myself, and I keep waiting for someone to yell "arrr, shut up, dumbass." But in today's market, if you don't claw open a space for yourself to be heard, you won't be.
So I decided, at the end of last year, I wanted to try and open up that space. 
Why? Because I love this city. Because I couldn't do anything else in my life but write. Because I'm not a supermodel, or an international woman of means, but I like to think that doesn't need to stop me from taking inspiration to seek out style in Winnipeg — in whatever form that takes - and supporting others doing the same.
So thank you for your support.
————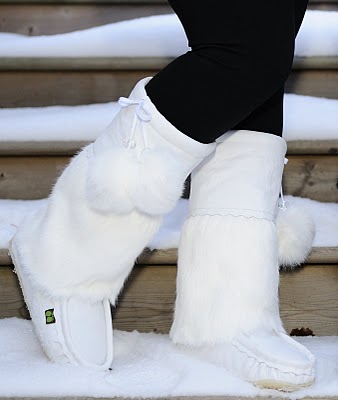 Here's a great story.
Two Winnipeg moms, who know nothing about footwear, start a  kids' footwear business. Two years later, they're taking it to Hollywood: next week, the pair at Sweet Pedtooties is heading to the Golden Globes, where they were invited to share their "modern mukluks" at the celebrity gift lounge. 
So, will we see one of Angelina's forty children wearing these in 2010? I wouldn't be surprised: their children's mukluks  just make you scream "awwww." 
But beneath the cutesy-poo brand name, I was shocked to discover they are selling some fine adult products as well. Soft footwear for adults is usually more ugly (or, ahem, Uggly) than warm, but the sleek shape on these white bombshells is just plain hot. I think I may be in love.
The company's online store is slated to be up soon: I might have to order myself a pair. And blog about it.
 + The West End Cultural Centre is introducing a new music series: Melodies on Mercredi, which pairs up'n'coming artists with visual art from youth. This is a bang-on idea: I've been hearing a lot of frustration about a lack of stages for emerging artists in Winnipeg. The series kicks off on Feb. 3.
+ The protest to save the Windsor Hotel is going ahead on Saturday at 2 p.m., despite the fact that the illustrious Morley Walker summed up what we know about what's happening: almost nothing. I'm definitely going, because community support for something like this is not to be missed, even if its direction is uncertain.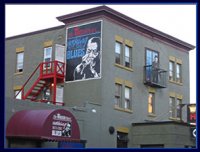 EDIT 2, 12:15 p.m.: Full interview with Boyd Newton on CJOB here. Long story short: nobody knows anything, he is clearly concerned, that's all she wrote for now.
EDIT, 11:20 p.m.: Caught the tail end of an interview at CJOB with Boyd Newton, who was hoping to purchase the Windsor. Missed the first half of the interview, but Facebook commenters are saying that the CJOB interview clarified that the property was not bought by the city, but by a private buyer, and few other details are available.
This is comforting in a way. I'm glad to know that the rumours of the Windsor's concrete demise may well be just that — a rumour — but I am still concerned over the future of this very special musical space.
One interesting lesson to come out of this, though, is just how much the idea of the city buying a special cultural space and turning it into a parking lot rang very true-to-life to, apparently, many hundreds of people. That obviously says something about the relationship the city's music-loving community has with this municipal government.
I'm still wearing pants, but this hit me too hard to wait.
I've been increasingly disconnected from the music scene in the last 12 months, owing to an increasingly limited workplace exposure to what was essentially my beat for almost 10 years. So this development took me entirely by surprise.
According to noted city blueswoman Kathy Kennedy, the Windsor Hotel — that creaky, ancient bastion of dirty blues in the Peg — has been sold to the city, with plans to turn it into a parking lot.
More details are available on the Save The Windsor Hotel Facebook group. For the record, I have not made independent confirmation of the details.  But if the Windsor is indeed to become a parking lot, I know one thing to be true: it will be a terrible loss for live music in Winnipeg.
True, for most people under about age 35, the Windsor doesn't command the same cultural capital as the Albert, the Pyramid, or the Times Change(d). But in its own, quintessentially bluesy way, the Windsor was as vibrant a music-hole as you can find anywhere in the world.
It was a raw place, dark, the kind of bluescan where you wallow in the smell of old beer and muddy carpet. There were the fading 8×10s of old bluesmen and women tacked up haphazardly along the walls, with no self-conscious sense of order. There was the fickle glow of VLTs, a stage the size of a suburban bathroom, and a couch that was falling apart at the seams.
And man, they had some sick blues shows there.
The Windsor isn't a historic building because it's old, and Charlie Chaplin once stayed there. The Windsor is a historic building because it has been one of Canada's best-known blues joints for decades; because it was a staple of the touring circuit; because it was a key feature of the Jazz Winnipeg Festival and others; because it has nurtured the careers of local folks like Big Dave McLean.
Simply put, the Windsor is historic because it has been there for decades, always been the same, and always delivered an authentic blues experience in an ultimately authentic blues environment.
I urge everyone reading this, whether you personally downed pints at the Windsor or not, to sign the petition to save this building from its rumoured untimely end.
Downtown Winnipeg doesn't need another parking lot. It does, however, need establishments which give artists a place to hammer out their art, establishments that bring people of all stripes downtown, and establishments which capture, preserve, and help grow Winnipeg's unique cultural heart.
There will be a rally on Saturday at 2 p.m. to voice opposition to the Windsor's transformation into, well, anything that isn't the Windsor. I'll be there, with my camera, adding my voice. Hope more of you will join. This isn't just about good culture; it's also about good business and, frankly, good government.
I'll update or post again as I get more information, and have more coherent thoughts. In the meantime, please join the Facebook group, retweet, and spread the word.
In the meantime, I'll leave you with a snippet from a Windsor show I thoroughly enjoyed: Watermelon Slim from the 2008 Jazz Winnipeg festival.