This afternoon, Mr. Nothing and I were on our way to document the rally at the Windsor Hotel, which as been transformed from a valiant attempt to save it from civic demolition to a grassroots movement to get the ol' dear listed as a municipal heritage building.
Then we realized we were an hour late (whoops!) and there were only about 10 people of the original 80 left, so we kept driving…
Out to the (relatively) new Berns & Black, which not only is the co-brainchild of Winnipeg hair whisperer Kitty Berns, but also home to the satellite location of ooh-la-la Lilac boutique, Cha-Cha Palace. (Need I remind of this coat?)
Located, perhaps somewhat incongruously, next to the good ol' Woodbine Hotel on Main Street, the salon and shop sits in what used to be Birt Saddelry, which I remember as a place of pony-lovin' fantasy from my early childhood.
We had been told by staff at the Lilac Cha Cha that the Main Street shop had a wider selection of men's shoes. Since Mr. Nothing has a hunger for Fluevogs (and really, who among us doesn't?), of which Cha Cha Palace is one of the very few carriers in Winnipeg, we figured it was time to pay a visit.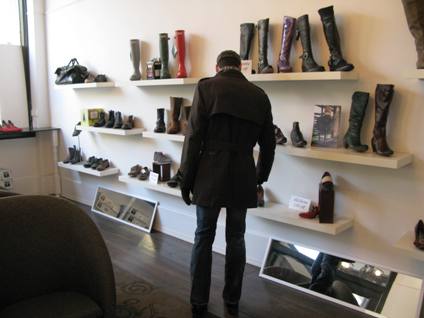 We were a little disappointed that the stock was much smaller than we had assumed: just a few dozen shoe styles and some accessories. (If you're in the market for some distressed-leather biker boots, though, they had a sick pair, as well as a nice selection of Fly London.)
But all was not lost.
As it turns out, one of Berns & Black's stylists (either Lori or Laurie, I decided to take my weekend off work for all its worth and refrain from asking for the spelling) also makes some pretty damn adorable hair accessories.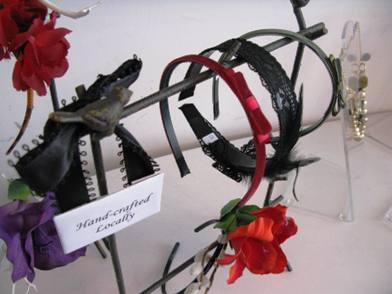 See? How cute are these?
Headbands with lace and feathers; headbands with flowers; and that sweet little crimson velveteen headband witht the flat bow, at left.
The same creator also made a selection of pretty feather and peacock earrings.
Best part? The headbands were a very reasonable $15. And they look very, very cute.
Proof: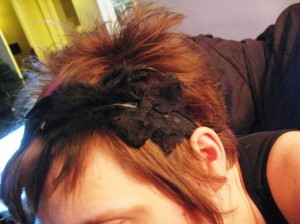 But we weren't done there.
I've already written in praise of Vintage Glory on Albert Street, so I won't belabour the point. We stopped at F&Q, the sister store of Osborne Village staple ParaMix, for jeans and a floral quilted jacket… thing, a thing that shall undoubtedly feature in future What I Wore episodes.
And then I found these.
Modelled here by the dessicated corpse of our white pine Christmas tree, these earmuffs are one of a delightfully varied series at Ragpickers.
Made, apparently out of recycled materials, by a local imprint called D&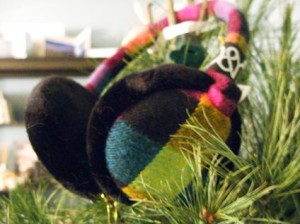 Y (which I can't find any reference to online: does anyone know who these guys are?), this pair — a candy-coloured plaid — were only $16.
Other prints included red houndstooth and black houndstooth… and if you're looking for earmuffs that aren't tacky, fluffy and strapped by chintzy plastic, I must insist you go buy a pair.
And yes, they are quite warm.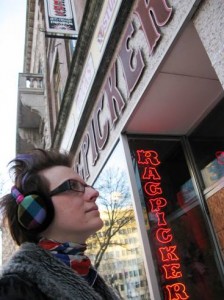 To close today's edition of shopping success in downtown Winnipeg, a What I Wore. I seriously dig this outfit, and it marks the debut for the red plaid skirt:
Hat: Not mine! It's a delectable black, blue and red feather contraption at Vintage Glory for $30.
Tank: American Apparel, the world's best basic cotton tank. Washed at least 100 times, has kept its black and its shape.
Waist cincher: Lucy's Hidden Closet.
Plaid skirt: Vintage Glory
Buckled stiletto boots: ParaMix
Chain necklaces: Set from ParaMix from last year… that they had back in the store last week!
Scarf: Silk scarf that was used as a bag by Dahlia Drive, the most incredible dress designer in Canada