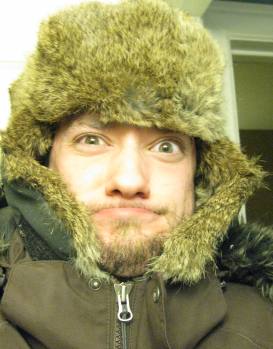 Hello, I'm Joe Winnipeg.
You know what grinds my gears? When the government gives money to the arts in Winnipeg. Money, jerkwads. To the arts. What the deuce is that? To that I say, look here assholes, I got a pothole in my back lane you could hide a German Shepherd in. The sewer backs up the first week in May.
I got problems, people. And the gov'ment's just flippin' around, spending my taxpayer dollars on some hoity-toit longhairs and their fingerpainting. It makes me sick.
And now, I get this damn missive from the Winnipeg Folk Festival. An arts organization, people. That gets my taxpayer dollars and spends it on music.
What is this garbage? Lemme tell ya. See, the Folk Fest folks emailed me to say that their last private fundraiser, the Winter Wassail in November, raised $40,000 for their community work. I ain't got no problem with that, see. That there is private dollars.
But what I do got a problem with is the other facts they included in their email, like their economic impact report from 2008. We're talking about the  government giving them my money to cover about 8% of their artsy-fartsy $3.8-million annual budget.  And I takes a big issue with that.
Okay, true, the Festival brings a few thousand Americans, and a thousand or so people from elsewhere in Canada, to Manitoba, where they spent about $4.1 million on hotel rooms and food and travel. But I can't care about that. I also don't give a hootenanny that the Festival was found to generate a net $9.7 million in gross domestic product for Manitoba or create 167 jobs per year.
Because I got problems, folks. I got a pothole. And unless these artsy-fartsy musicians wanna grind up their guitars to fill it in, I ain't gonna change my mind about spending my tax dollars on the arts. Fah!
—
Sorry, Joe's been bugging me for months for some space. The comment section of the Winnipeg Sun website wasn't cutting it for him anymore. Now that he's said his piece, back to your original programming.
+ For those who don't know, the Winnipeg Arts Council Billboard is one of the most informative, useful mailing lists in the city, especially if you're hoping to penetrate what can sometimes be an intimidating arts scene. Upcoming events, job postings, news bits and calls for submission from Manitoba and beyond.
+ As far as nightclubs go, I dig Mystique. Downtown nightclubs have had a rocky history, often punctuated by the threat (and, too often, reality) of violence. But the vibe at the former Desire is pretty clean, and a ton of fun. Now, I'm giving Mystique my new weekly award for best nightclub offering.
On Saturday, the club is debuting a new format for its I (Heart) Saturdays: "drums and keyboards versus turntables and hip-hop, with party rock." I am entirely uncertain what that is going to end up sounding like, but I do know it sounds like the kind of mash-up of styles that I've been fruitlessly lobbying for for years in this city. I may, in fact, have to visit it on Saturday night to see if it's as juicy as it sounds.
+ Just came back from a screening of Superbad Nick and Norah's Infinite Playlist Juno Youth in Revolt, or, as my friend Josh so aptly put it, "that one where Michael Cera plays an awkward virgin." Ah yes, that one. Now, I'm no Randall King - actually, nobody is Randall King, except Randall King. I'm serious. We in Winnipeg are lucky to have a locally-based movie reviewer as talented, and as prolific, as Mr. King. To quote my husband, circa summer 2008, "Who is this Randall King guy? He wrote the entire Thursday paper himself," and anyway what was I saying?
Oh yes. I am no Randall King. But Youth in Revolt was a solid two hours of comedy. It doesn't come close to Superbad — it gets maybe 3.5 stars to Superbad's five — but plenty of good chuckles. If you're bored this weekend, it won't be a waste of $12.
The first few days of Nothing in Winnipeg were a blogging triumph. Then today…. *whooooooCRASH*.
I blame the day job.
But while I angle to get myself back on track for tomorrow, I want to make a personal note, from me to you.
This blog has been getting great traffic for a newborn. Lots of people are checking it out, and what's more amazing, lots of people are coming back, even without me flogging my own posts on Twitter or Facebook. 
That means a lot. I've written a lot of things that people have read, but I've usually hid behind a byline and a publication brand. I've never been in a position where I've had to promote myself, and I keep waiting for someone to yell "arrr, shut up, dumbass." But in today's market, if you don't claw open a space for yourself to be heard, you won't be.
So I decided, at the end of last year, I wanted to try and open up that space. 
Why? Because I love this city. Because I couldn't do anything else in my life but write. Because I'm not a supermodel, or an international woman of means, but I like to think that doesn't need to stop me from taking inspiration to seek out style in Winnipeg — in whatever form that takes - and supporting others doing the same.
So thank you for your support.
————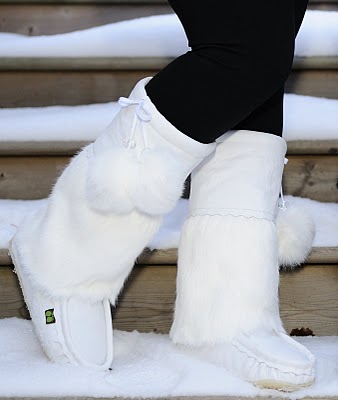 Here's a great story.
Two Winnipeg moms, who know nothing about footwear, start a  kids' footwear business. Two years later, they're taking it to Hollywood: next week, the pair at Sweet Pedtooties is heading to the Golden Globes, where they were invited to share their "modern mukluks" at the celebrity gift lounge. 
So, will we see one of Angelina's forty children wearing these in 2010? I wouldn't be surprised: their children's mukluks  just make you scream "awwww." 
But beneath the cutesy-poo brand name, I was shocked to discover they are selling some fine adult products as well. Soft footwear for adults is usually more ugly (or, ahem, Uggly) than warm, but the sleek shape on these white bombshells is just plain hot. I think I may be in love.
The company's online store is slated to be up soon: I might have to order myself a pair. And blog about it.
 + The West End Cultural Centre is introducing a new music series: Melodies on Mercredi, which pairs up'n'coming artists with visual art from youth. This is a bang-on idea: I've been hearing a lot of frustration about a lack of stages for emerging artists in Winnipeg. The series kicks off on Feb. 3.
+ The protest to save the Windsor Hotel is going ahead on Saturday at 2 p.m., despite the fact that the illustrious Morley Walker summed up what we know about what's happening: almost nothing. I'm definitely going, because community support for something like this is not to be missed, even if its direction is uncertain.
Oh, right, it's 2010.
Seeing as we only have slightly under two years left on the planet*, and given that there is wide agreement amongst the mainstream media, my friends, and disgruntled cab drivers that 2000-09 was a pretty crap ten years, it can only start looking up this year, right?
Here's a shortlist of what I'm pumped about seeing in the next 12 months:
All hail, our new H&M shall arrive at Polo Park by the end of the year. This is a godsend, especially for men who want cool clothes that don't look like a logo factory threw up on them.
Manitoba Homecoming 2010. I know, I know, common wisdom on news site comments suggests I should froth at the mouth whenever government funds anything that sounds too suspiciously like it might be fun. What can I say, I'll take parties over potholes any day.
The old Basil's restaurant at the corner of Osborne and Stradbrook is finally under renovations, after a water main break two years ago shuttered what is, inarguably, the most gorgeous summer patio in Winnipeg. If it's back by summer 2010, it will be a joyous summer indeed.
There are more things I'm amped about — music, films, stuff on teh Internets — but I'll blog about that at a later time.
For now, let me conclude with a brief roundup of interesting tidbits:
Manitoba Homecoming 2010 announced its official anthems. Yay: local darlings Keith and Renee's song Good Year makes the cut. Yawn: so does BTO's Takin' Care of Business. Love BTO and glad to see them reunited, but it's high time we stop hogtying ourselves to everything Burton and Randy do, or did.
The Downtown BIZ released its top developments of 2009 today. Long story short: crap year for much of the world, busy one for Winnipeg's slowly revitalizing core.
The ambitiously large Blush Ultraclub is now closed, after two years in business and steadily declining attendance. The big ol' Portage Avenue space is being remodeled into a sports lounge. That will be… interesting.
The Winnipeg Folk Festival is hiring.
Iconic punk group NOFX — which is almost as old as I am — is coming back to Winnipeg on April 26 at the Burt. Tickets onsale on Jan. 8 at Ticketmaster for $19.50 and $29.50. Not bad.
The Winnipeg Free Press website discovered colour today. But why is business green? Is this a coded message from the liberal mainstream media and the global warming conspiracy? Or is it green for the colour of the oh-so-retro cold, hard cash?
*Unless you hook up with a moody John Cusack, in which case he will suddenly overcome his uberloser tendencies to heroically usher you to salvation whilst shrugging off the horrific deaths of billions.