The first few days of Nothing in Winnipeg were a blogging triumph. Then today…. *whooooooCRASH*.
I blame the day job.
But while I angle to get myself back on track for tomorrow, I want to make a personal note, from me to you.
This blog has been getting great traffic for a newborn. Lots of people are checking it out, and what's more amazing, lots of people are coming back, even without me flogging my own posts on Twitter or Facebook. 
That means a lot. I've written a lot of things that people have read, but I've usually hid behind a byline and a publication brand. I've never been in a position where I've had to promote myself, and I keep waiting for someone to yell "arrr, shut up, dumbass." But in today's market, if you don't claw open a space for yourself to be heard, you won't be.
So I decided, at the end of last year, I wanted to try and open up that space. 
Why? Because I love this city. Because I couldn't do anything else in my life but write. Because I'm not a supermodel, or an international woman of means, but I like to think that doesn't need to stop me from taking inspiration to seek out style in Winnipeg — in whatever form that takes - and supporting others doing the same.
So thank you for your support.
————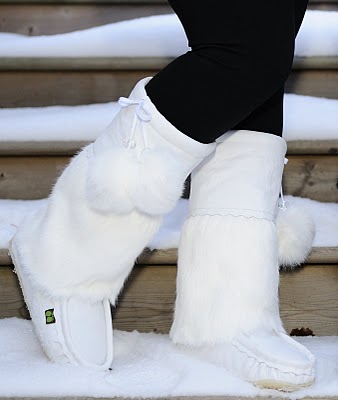 Here's a great story.
Two Winnipeg moms, who know nothing about footwear, start a  kids' footwear business. Two years later, they're taking it to Hollywood: next week, the pair at Sweet Pedtooties is heading to the Golden Globes, where they were invited to share their "modern mukluks" at the celebrity gift lounge. 
So, will we see one of Angelina's forty children wearing these in 2010? I wouldn't be surprised: their children's mukluks  just make you scream "awwww." 
But beneath the cutesy-poo brand name, I was shocked to discover they are selling some fine adult products as well. Soft footwear for adults is usually more ugly (or, ahem, Uggly) than warm, but the sleek shape on these white bombshells is just plain hot. I think I may be in love.
The company's online store is slated to be up soon: I might have to order myself a pair. And blog about it.
 + The West End Cultural Centre is introducing a new music series: Melodies on Mercredi, which pairs up'n'coming artists with visual art from youth. This is a bang-on idea: I've been hearing a lot of frustration about a lack of stages for emerging artists in Winnipeg. The series kicks off on Feb. 3.
+ The protest to save the Windsor Hotel is going ahead on Saturday at 2 p.m., despite the fact that the illustrious Morley Walker summed up what we know about what's happening: almost nothing. I'm definitely going, because community support for something like this is not to be missed, even if its direction is uncertain.
The only reason I didn't start this blog earlier is that I could never figure out what to start with. Now I have, and here we are: my name is Melissa Martin, and I need to kick this blog off by talking about this place.
 Vintage Glory, man.
 The buzz is out there, but there's still an unconscionable number of people who stare blankly when I mention it. That's changing, though: despite being right around the corner from one of the most recognizable shops in the city — Ragpickers Anti-Fashion Emporium on McDermot - Vintage Glory at 88 Albert has been getting its own spotlight.
It's a clean shop, and mercifully uncluttered. Unlike most vintage stores, the racks aren't bustin' out. You have to come often, because there's not much stock on the floor at once. But that's fine: after your first visit, you'll want to go often.
That isn't what makes Vin-Glo (may I call you Vin-Glo?) special, though. What makes this store special is that, while they have among the most breathtaking vintage treasures in the city, their pricers don't seem to know that yet.
You don't need to take my word for it. I bring proof.
To start, let's talk party dresses. At many vintage stores, on Etsy, and on eBay, any pre-Feminine Mystique party dress of a certain silhouette that doesn't reek of mothballs will sell for at least $150. That's understandable: they have a big market. Deep down inside, we all want to look like Betty Draper.
The first time I went to Vintage Glory, I stumbled on that Ladies Home Journal glow in purple polka-dots for a mere $35.
After that, I was hooked.
Next purchase was a leopard-print tote: $20. It's actually a jewelery/make-up travel case, but it feels oh-so-Carrie Bradshaw to use it as a purse. I have never seen anything quite like this in my life, and I sort of hope that I never will. It needs to stand alone. 
But this… THIS… is the piece d'resistance.
If you bought this leather jacket outright now - and you certainly could, cuts this flattering are never passe - you'd be shelling out at least $200. At Vin-Glo, it was a criminally low $40.
Forty bucks. For the first and only leather jacket I will need of the decade. For a jacket that came in mint condition, without a single crinkle at the waist. That's not just a bargain. It's a miracle.
Now, the point of this isn't to brag about my sweet, sweet Vintage Glory hauls. What I'm trying to say is that this bounty, too, could be yours. What I'm trying to say is that this little Exchange District shop is a rare gem in vintage shopping… not just in Winnipeg, but even in comparison to the raddest of the rad vintage stores in other, sexier metropolitan centres. (That said, I'd give my left Fluevog for Winnipeg to get a Black Market, but that's another post for another day.)
We, as Winnipeggers, need to band together, buy their shit, and keep them in business.
Oh, and about that price thing. You might think you're stealing from Vintage Glory's owners when you snap up this frisky raspberry coat for a mere $35. (I didn't buy it, because I already have a bright pink coat. Someone needs to take that baby home, however, and post many celebratory pictures.) You might think you're getting away with embezzlement if you bag the vintage Pucci shirt they're selling for a shocking $95.
Don't worry, they know.
"Think of this Chanel scarf as an investment," the fashion-savvy Saturday salesguy said, as I wangsted over the $45 silk beaut in the display case. "If you don't wear it, you can hang onto it for awhile, then sell it for $200 on eBay."
He had a point. (So did my husband, who noted that I'd get $45 of value in just telling people I owned a Chanel scarf.)
You can guess how this ends.
Lookit that, I just made my money back.