The first few days of Nothing in Winnipeg were a blogging triumph. Then today…. *whooooooCRASH*.
I blame the day job.
But while I angle to get myself back on track for tomorrow, I want to make a personal note, from me to you.
This blog has been getting great traffic for a newborn. Lots of people are checking it out, and what's more amazing, lots of people are coming back, even without me flogging my own posts on Twitter or Facebook. 
That means a lot. I've written a lot of things that people have read, but I've usually hid behind a byline and a publication brand. I've never been in a position where I've had to promote myself, and I keep waiting for someone to yell "arrr, shut up, dumbass." But in today's market, if you don't claw open a space for yourself to be heard, you won't be.
So I decided, at the end of last year, I wanted to try and open up that space. 
Why? Because I love this city. Because I couldn't do anything else in my life but write. Because I'm not a supermodel, or an international woman of means, but I like to think that doesn't need to stop me from taking inspiration to seek out style in Winnipeg — in whatever form that takes - and supporting others doing the same.
So thank you for your support.
————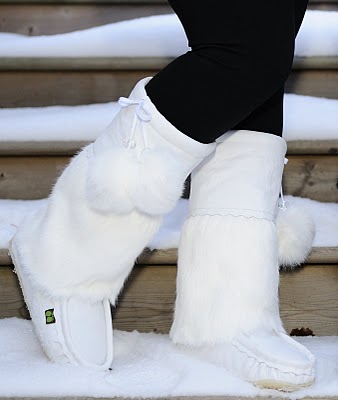 Here's a great story.
Two Winnipeg moms, who know nothing about footwear, start a  kids' footwear business. Two years later, they're taking it to Hollywood: next week, the pair at Sweet Pedtooties is heading to the Golden Globes, where they were invited to share their "modern mukluks" at the celebrity gift lounge. 
So, will we see one of Angelina's forty children wearing these in 2010? I wouldn't be surprised: their children's mukluks  just make you scream "awwww." 
But beneath the cutesy-poo brand name, I was shocked to discover they are selling some fine adult products as well. Soft footwear for adults is usually more ugly (or, ahem, Uggly) than warm, but the sleek shape on these white bombshells is just plain hot. I think I may be in love.
The company's online store is slated to be up soon: I might have to order myself a pair. And blog about it.
 + The West End Cultural Centre is introducing a new music series: Melodies on Mercredi, which pairs up'n'coming artists with visual art from youth. This is a bang-on idea: I've been hearing a lot of frustration about a lack of stages for emerging artists in Winnipeg. The series kicks off on Feb. 3.
+ The protest to save the Windsor Hotel is going ahead on Saturday at 2 p.m., despite the fact that the illustrious Morley Walker summed up what we know about what's happening: almost nothing. I'm definitely going, because community support for something like this is not to be missed, even if its direction is uncertain.