This afternoon, Mr. Nothing and I were on our way to document the rally at the Windsor Hotel, which as been transformed from a valiant attempt to save it from civic demolition to a grassroots movement to get the ol' dear listed as a municipal heritage building.
Then we realized we were an hour late (whoops!) and there were only about 10 people of the original 80 left, so we kept driving…
Out to the (relatively) new Berns & Black, which not only is the co-brainchild of Winnipeg hair whisperer Kitty Berns, but also home to the satellite location of ooh-la-la Lilac boutique, Cha-Cha Palace. (Need I remind of this coat?)
Located, perhaps somewhat incongruously, next to the good ol' Woodbine Hotel on Main Street, the salon and shop sits in what used to be Birt Saddelry, which I remember as a place of pony-lovin' fantasy from my early childhood.
We had been told by staff at the Lilac Cha Cha that the Main Street shop had a wider selection of men's shoes. Since Mr. Nothing has a hunger for Fluevogs (and really, who among us doesn't?), of which Cha Cha Palace is one of the very few carriers in Winnipeg, we figured it was time to pay a visit.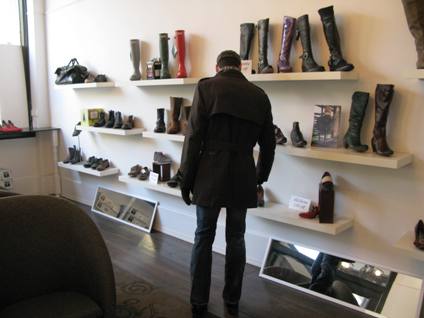 We were a little disappointed that the stock was much smaller than we had assumed: just a few dozen shoe styles and some accessories. (If you're in the market for some distressed-leather biker boots, though, they had a sick pair, as well as a nice selection of Fly London.)
But all was not lost.
As it turns out, one of Berns & Black's stylists (either Lori or Laurie, I decided to take my weekend off work for all its worth and refrain from asking for the spelling) also makes some pretty damn adorable hair accessories.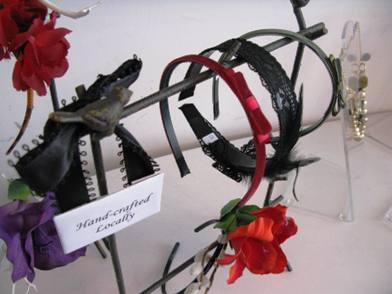 See? How cute are these?
Headbands with lace and feathers; headbands with flowers; and that sweet little crimson velveteen headband witht the flat bow, at left.
The same creator also made a selection of pretty feather and peacock earrings.
Best part? The headbands were a very reasonable $15. And they look very, very cute.
Proof: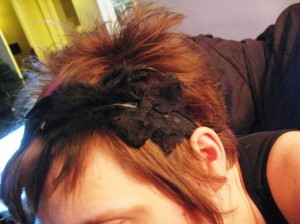 But we weren't done there.
I've already written in praise of Vintage Glory on Albert Street, so I won't belabour the point. We stopped at F&Q, the sister store of Osborne Village staple ParaMix, for jeans and a floral quilted jacket… thing, a thing that shall undoubtedly feature in future What I Wore episodes.
And then I found these.
Modelled here by the dessicated corpse of our white pine Christmas tree, these earmuffs are one of a delightfully varied series at Ragpickers.
Made, apparently out of recycled materials, by a local imprint called D&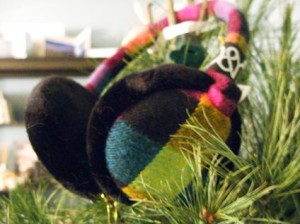 Y (which I can't find any reference to online: does anyone know who these guys are?), this pair — a candy-coloured plaid — were only $16.
Other prints included red houndstooth and black houndstooth… and if you're looking for earmuffs that aren't tacky, fluffy and strapped by chintzy plastic, I must insist you go buy a pair.
And yes, they are quite warm.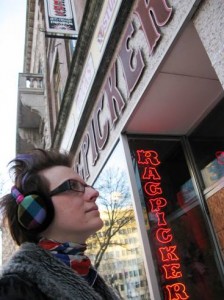 To close today's edition of shopping success in downtown Winnipeg, a What I Wore. I seriously dig this outfit, and it marks the debut for the red plaid skirt:
Hat: Not mine! It's a delectable black, blue and red feather contraption at Vintage Glory for $30.
Tank: American Apparel, the world's best basic cotton tank. Washed at least 100 times, has kept its black and its shape.
Waist cincher: Lucy's Hidden Closet.
Plaid skirt: Vintage Glory
Buckled stiletto boots: ParaMix
Chain necklaces: Set from ParaMix from last year… that they had back in the store last week!
Scarf: Silk scarf that was used as a bag by Dahlia Drive, the most incredible dress designer in Canada
With regards to Mr. Friedman — this is the story of one woman, one man, their city, and their crepes.
We'll start at the beginning.
There was a time when it seemed like Winnipeg might succumb to the pull of charmless big-box strips. Osborne Village was slowly dying, Corydon Avenue storefronts were falling out of fashion, and the Exchange District was a relic, not a retail destination.
Suddenly, as if by tacit mass agreement, everything started to change.
In the last half-decade, a whole new culture of young entrepreneurship sprung up around Winnipeg. In the Village, it was Mixtape and The Urban Boutique and ParaMix; established stores like Silver Lotus and Out of the Blue expanded to sister locations (shoe heaven Rooster and upscale dress boutique Frockstar, respectively).
In the Exchange, Cake Clothing and Candie & Dolls helped spur a renaissance that has bloomed into a host of hip jewellery and clothing shops. Near Corydon, a dozen swanky boutiques sprung up — including my favourite, Cha-Cha Palace, which opened a second location on Main Street last year.
As of three weeks ago, we can add more evidence of this boom in the young Winnipeg business community: Kawaii Crepe.
A few months ago, this Osborne Village space's windows were dark, the former Wasabi retail outlet having closed some time ago.
Now, it's home to Winnipeg's only major entry in the crepe category, a food that has long held a hallowed place in other metropolitan hotspots: Toronto's Cafe Crepe, for instance, is almost as big a Queen Street West tourist trap as the MuchMusic building.
What's more, Kawaii Crepe is owned by Candy and Erin, best known for heading up funky Asian fashion boutique ParaMix and its Exchange District sister store, F&Q.
Seeing as how I've already funnelled enough cash into ParaMix to put Candy's future kids through college, I figured another $20 to check out Kawaii Crepe wouldn't hurt. 
It's a sleek-looking spot, all pristine white and fire-engine red, save for the fluid mural that takes up one wall. The crepe menu near the cash desk is vast — 34 named crepes in all, plus a make-your-own option — and some combos are surprising: The Hurricane, for instance,  features young asparagus spears in a mushroom dill sauce. (See the menu for yourself, online.)
For our first outing to Kawaii Crepe, we played it safe. I picked up a Pepe Le Pizza ($4.95), which is exactly what you would assume with mozzarella, cheddar, marinara and pepperoni. The Husband, meanwhile, opted for the Fiesta En Mi Boca, which is basically a beef taco, in a crepe.
The Fiesta crepe got a lukewarm review from the dude, who found that the goopy ingredients (and what he suspects is a store-bought salsa, which he cannot abide) combined with the soft crepe made the whole shebang "far too soggy."
But the Pepe Le Pizza was a delight, sweet and savoury with crispy edges and a tender, gooey inside. True, it was basically a Hot Pocket without the freezer burn, but the ingredients tasted fresh and the herbs in the sauce contrasted sharply with the sugary crepe shell.
We saved the showpiece for last: a pear, honey and almond dessert crepe that, while it could have used a bit more filling, delivered a satisfying, fruity bite with a refreshing crunch.
But as tasty as my crepes were, I'm more excited about the concept. Oddly, fast food has never had much of a toehold in Osborne Village, even though it could have the highest foot-traffic of people who want quick, cheap, easy food in the city. Until three weeks ago, you could grab either pizza or a burger; but the opening of Kawaii Crepe brings some much-needed diversity, and helps reaffirm the Village as a place where everything is at your fingertips.
———
On Twitter yesterday, I pledged that when I get to 150 unique visitors, I'll take my pants off and blog about it. (Lady GaGa has gotten to me.) I will likely surpass that mark tonight. I know that number is very small potatoes in the blogging world, but to me, it's a milestone: I have a lot of plans for this blog, and the more readers I get, the more pumped I get about making them happen.
Let's cap things off with an outfit-of-the-day, shall we?
Brocade coat: Old Le Chateau
Red knit scarf, studded purse: ParaMix
Red rose party dress: Cha-Cha Palace
Buckled stiletto boots: ParaMix
Tights: American Apparel
Today was the last day of business for McNally Robinson in Polo Park.
Only six days ago, the company informed its employees that it was shutting down the store, its second in Winnipeg, which moved to the mall from Portage Place in 2008. (It also ceased operations at its ambitious Toronto location.)  
My husband and I decided to go pay our respects for the store's last day. Why? Hard to say: we usually shop at McNally's Grant Park location (as do, apparently, most other people). Maybe it was a show of solidarity. Whatever the motive, others felt the draw: by 2:30 p.m., the store was full of people.
As we waited in line to buy our books (his: The Elephant Vanishes by Haruki Murakami, mine: the 2010 edition of my favourite dayplanner), we listened as the store's staff — 100 of whom are now out of jobs - patiently answered customers'  expressions of sympathy.  
"Yes, it's very sad."
"Oh, thank you. We'll miss it too."
"It's starting to sink in. It's been a hard week."
Across the aisle, another employee rested her elbows on the desk and her face in her palms. She gazed at the shelves and blinked away tears.
Perhaps this story has hit Winnipeggers so hard because nobody, not even its employees, saw it coming. It was, after all, named one of the 50 best-managed companies in Canada in 2006. Now, it's wobbling on the edge.
In 2008, when McNally Robinson announced it would open a Toronto location, it was headline news. Splashed all over the Free Press, interviews on TV. And I remember the first  thought I had when I read the announcement: "Wait, there isn't a McNally in Toronto?"
I wasn't the only one surprised. Chalk it up to the curious business of branding: for many of us who grew up in Winnipeg, McNally Robinson was the bookstore. It had the best selection, the best atmosphere, the best readings. Founded the year I was born, 1981, it became a destination, part of our cultural dialect. Many Winnipeggers never just  "go book-shopping." We "go to McNally."
Maybe, playing on our great prairie inferiority complex, we assumed that anything so popular had to have its roots in other, more lucrative cities in Canada. Maybe the company's airy Grant Park flagship seemed too pretty to be thoroughly homegrown. Maybe we just assumed that since we knew McNally so well, other Canadians must, too.
Either way, once we realized that McNally Robinson was unique to the prairies, the simultaneous news of its expansion took on new gravity. If McNally Robinson could make it work in Toronto, it could take on the world… and we would have the proud distinction of saying, "we knew it first."
Less than two years ago, we were holding McNally up as a Manitoban success story and buzzing about its power to take on some of the faceless U.S.-based mega-chain. Hell, even Toronto media was warming to the idea that McNally Robinson had the tools to solve the dilemma of the internet and competing with a multi-billion giant.
On Dec. 28, pop went that bubble.
Let's not wax poetic too quickly. Though the company's filing for bankruptcy protection isn't exactly reassuring, the Grant Park flagship and the Saskatoon location are still in operation. Maybe this partial-death experience will provoke Manitobans to rally this, one of the best and last big independent bookstores in the country. Time will tell.
In the meantime, it did darken my heart to see this sign outside of McNally's Prairie Ink cafe, where empty cups and other trash stood guard over the place where I was officially offered my first full-time writing job:
Good luck and hang in there, McNally Robinson.
On that note, since this is in part supposed to be a style blog, I'll end with my outfit of the day, as I pimp out our last-ever purchases at McNally Robinson Polo Park:
Pink plaid coat: Cha Cha Palace
Turquoise cowboy boots: Ragpickers
Black calfskin gloves: Vintage Glory
Black faux-leather tights: American Apparel
Headscarf: Chanel